Lynn's Music
*Concerts * Clubs * Listening Rooms * Coffee House Performances *
* Private Functions * Private House Concerts *
"Lynn's fine-fingered lyrical playing artfully captures the soul and essence of every song he plays."
Alfred Grunwell Owner/Engineer Finger Lakes Recording
---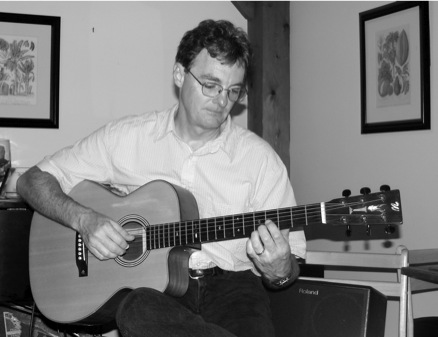 Lynn Wiles has been a guitarist for over three decades. He has developed a style influenced by Leo Kottke, Jorma Kaukonen, Wes Montgomery, Howard Alden and many other finger-style, classical, and jazz greats. His style of playing reflects these influences. Lynn performs solo instrumental guitar, blending contemporary finger-style with jazz and classical influences, and a little bottle neck blues for the spirit of it all.
Lynn also builds custom steel string guitars, mostly OM and 000 models. To talk about ordering a guitar, please email
---
New CD Release
We would like to let you know that our long awaited studio recording, A Felicidade Songs of Brazil, is available on CD format! We have the honor of being joined by a few very talented musicians. Here is the line up. Eric Aceto ~ violin, Leon Arguello ~ shaker, Jorge Cuevas ~ percussion, and Tom McClure ~ saxophone and flute.
A collection of Brazilian standards presented with the subtleness of the guitar, accompanying Angie's beautiful voice. Take a listen.
If you would like a copy, visit http://www.cdbaby.com/cd/lynnwiles or click the shopping cart in the above player. And of course, you can email Lynn directly:
Enjoy! A Felicidade!
---
Have Lynn perform at your next Private Function
Lynn is available for many types of private functions including, wedding ceremonies, wedding receptions, dinner parties, corporate functions, wine tastings, benefit or fund raising events, or even an afternoon tea. Add the elegance of solo jazz, classical and or instrumental guitar to your next function. Lynn presents music in styles from Bach and Beethoven to Ellington and the Beatles.
You can also have the option of having Lynn perform with another guitarist, bassist, vocalist, or pianist for duo or trio interpretations of fine and exciting music.
Email for more information.
Use the links below to hear a sample of Lynn's playing.
Solo Jazz
Guitar Duet
"Sunny"


"You Stepped Out Of A Dream"

Solo Classical
Guitar and Piano
"Fire And Rain"


"Don't Get Around Much Anymore"

---
Have Lynn perform at your private House Concert
Invite Lynn into your living room for an intimate house concert. House concerts have been happening since the time of Mozart. As a matter of fact most concerts were presented in a small quiet environment such as a living room or outside.
Here is an example of how a few of the concerts that Lynn has presented in a persons home or back yard have went.
Your guests arrive
Socializing with wine, beer, tea, whatever you choose
A one hour concert by Lynn
After concert dessert, coffee, pizza, formal dinner, brats, etc
At one house concert the guests made pizzas, and then watched the concert while the pies baked. After the concert, hot cheesy pizza was enjoyed by all.
Email for more information.
Use the players below to hear samples of Lynn's music.
Solo Instrumental
"Aleutian Island Sunset"

"Parallel Construction"
Vocal
"If I Had A Boat"

"Faster Gun"

"Hesitation Blues"
---
Lynn on YouTube
---
Available on CD
To purchase a CD, contact Lynn at:
"Hasty Pudding" Lynn Wiles & Jon Dana Blues, Jazz and solo fingerstyle guitar arrangements.
"Autumn Fire" Lynn Wiles & Paul Kimball with special guest David Wiles Jazz Standards with guitar and piano.